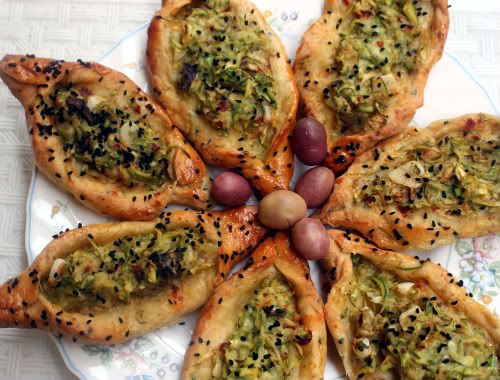 There are just so many things to contemplate on the global village. Then there is the daily running around we have to do. For me it's been graduation lately. I've invested a lot of my time studying; in another words I need some time to rejuvenate.

In this due update I have pastry with veggie topping. It was an experiment to bake them in boat shapes, to find out how they'd turn out. In my mind, the possible outcome would be a boost to visuality. Say, what if the topping dried out from heat until the dough baked nicely? What would the belly say?
It was sheer relaxation, mind relaxing experiment to me in between all the studying.
Especially the dough kneading part! Oh how I loved squeezing/forming that ball in my hands. Since it was experiment time, I sprinkled black cumin seeds (nigella sativa!) , some dried mint , turmeric over the ball and kept kneading. It didn't occur to me to include spices and herbs from the beginning since I am rather a act-on-whim kind of cook in kitchen. Had I known earlier, I'd have added them earlier. Turmeric would work its color well, so my dough would get evenly yellowish! Even more!
At the time my camera was out of battery, and I out of patience so just snapped these quickly with my webcam. They pass though. So, some ingredients to the right. Piece of dough, grated zucchini, on top of it is cayenne pepper and to the sides are grounded black pepper and turmeric.
I've got a lot of courage to push you all into experimenting BUT an exact recipe to share as usual. I should put this on the "About Me" section to come probably. (Maybe it's time to buy measuring cups!) I suppose it's not much helpful to a foodie who has no to little idea about what food I'm talking about. If I feel in that position, there's got to be something really spirited about the website to keep me coming back.
On a spirited miu note, I have good news about that. I try to pitch in some helpful tips... breadcrumbs to compensate for the lack of a strict trail. That may not have helped poor Hansel and Gretel but they ended up finding a house of gingerbread, candies and all, remember?
On with the experiments!
As for the dough:

I used white flour (but definitely go for more nutrition rich flour when possible) , eggs, vegetable oil, some Turkish yogurt (plain Greek could substitute probably) , pinch of salt and baking powder. Dough consistency aim is as usual, ear lobe softness. I use a deep bowl to make my dough. Break eggs, add oil and yogurt and mix them using a mixer. Not the machine! Dear Rosie the Riveter suggested we have the power, so. Then I add in the flour, salt and top with baking powder to mix them somewhat. Time to get hands on it. Adding flour as needed to knead it without sticking to my fingers.
If I feel polarized with good or bad mood exceptionally, I knead that dough so fast. On average moods I rarely give up on stubborn dough anyway. I remember staying away from getting my hands on dough for a good long time after beginning to cook. Somehow practice makes it better.
Moving onto topping:
My vegetable of choice was zucchini - because that's what I had. If I knew to be sneaky I'd say I used it cause the topping would have to be moist enough so it can stand the heat while preserving its flavor. Well this is how I rationalized it afterwards anyway. I wouldn't make a good politician.
Grated zucchini (well, thanks mom) , added spices like grounded black pepper, cayenne pepper and some thyme.
Fresh garlic cloves too! A LOT of them!
Also, I spot mom slicing up a baby artichoke and mixing it up with the rest as she giggled. She said she was contributing to the experiment.
Pulling off chunks of dough, I shape it in my fingers. Genuinely flattening them; length being bigger than width. Just like boats. Adding some topping, and then gathering the ends together and pushing with my thumbs so they keep in shape.
Smudged the side of "boats" with egg yolk so they'd brown nicely. Sprinkled some more black cumin seeds all over. Oven was already pre-heated to medium by then, so I just placed the tray in and waited in anticipation.
There we go. I plan to keep making this pastry! It's like an alternative to usual pogaca to me, just this time the shape being different so. No way I'll ever give up on these goodies. Comforted me well and I did both of my final exams just good. No more university since June 12th. I might have just graduated with a BA in Psychology. I won't believe it for sure until I see it on paper. Or wear the ridiculous cap and gown.By the way, summer is here fully - I'm not sure how motivating it is on creating meals or spend more than fifteen minutes in kitchen with a steaming pot even. But who knows, maybe it's time to come up with chilled, light alternatives ;-)
I'll leave ice cream making to our pros, but I plan to play around Turkish yogurt, fruits and stuff! When it's hot, I live on mostly liquid stuff. That's not much appropriate though... There's some food I won't give up on regardless of weather. Like pasta! How do you adjust your eating to weather?
Miu murmur to foodie friends:

You know Lisa Orgler of Lunchbox Project. Her recent project is on drawing from food photos foodies send her roughly. When I got her call for submissions, I was so excited about the idea I quickly agreed to it. I sent my pogaca photo first. Then after a while came the strawberry smoothie photo

- oh luscious yumminess -

so I switched to that! I am so glad finally she got around to work on my photo. Here's her precious art:




I wonder how I should describe her style. There's some great familiarity to her drawing style I feel. Accomplishes to look genuinely simple, yet it's not. It's warm and welcoming. Reminds me of my childhood books I found comfort and best company in. Couldn't help myself reading them as if I'm putting a hungry belly at ease. Then I'd study the illustrations and imagine. I feel a similar relief viewing Lisa's art. Say, if her drawings were people, you could sit with them in a room without the silence getting awkward.
My first smoothie, I called it wonder breakfast! Click the photo above if you want to recall it - but beware. I am drooling on a 4 am now. How alluring strawberries can get...
By the way, you could participate in her ongoing project by clicking this.
Please appreciate her effort!
Lastly, shout out to Pass the Pocky. She awarded me, and I am grateful to be worthy of her time with what I can do, thank you!
Time to go to bed. Do exactly as my little baby did then - she does at the moment. Cute little bump under the sheet! Meet her, she keeps me well. Adds up to spirited Miu. A lot. She's going to be 3 on November... my Maji.