Sunny morning. My mom and cat are still asleep. I am in the mood for a comforting breakfast. I don't need to think much, I'm going to bake. Checking for ingredients: flour, eggs, yogurt, oil. There. I want stuffed pastry... Veggies! I have zucchini, red bell pepper, some corn. Quickly beginning.
Breakfast pastry with zucchini, red bell pepper and corn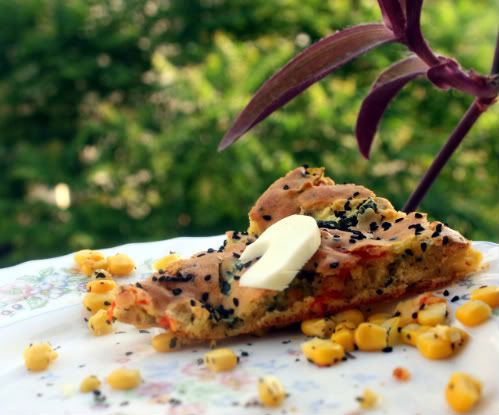 As usual I lose track of how I knead the dough for it, fellow foodies raise eyebrows at me. Luckily, the dough itself is nothing special, doesn't drive the hungry folk mad. It's the combination with veggies and baking that matters.
It's the mesmerizing smell that fills the house, makes it home. I even want to go overboard and associate it with "giving birth at home" kind of comfort - but I'm yet to try it myself.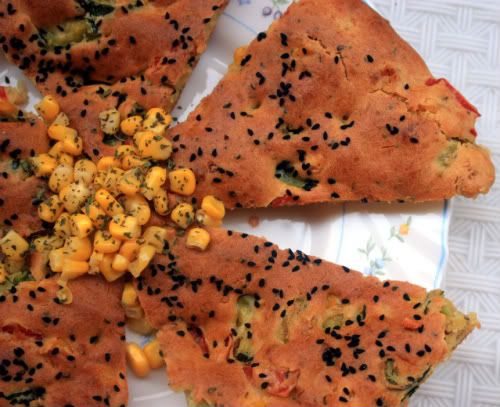 I love to sprinkle black cumin seeds (nigella sativa!) on savory pastries. Flavor enhancing. They're good for us too. Although, I hear that consuming them raw has more use.
Say, if the hungry folk also feels impatient - I give tips on easy dough making
here.
Oh the sheer joy of linking to self. =giggle=
Nah, just short in time.
***
Strawberry, arugula and cheese salad with olive oil, thyme and lemon


Then comes the noon. It feels hotter now. Trying to concentrate on last bit of studies, for final exams. My mind feels anything but concentrated. Okay, I get it. Nutrition refill time.
Wandering around, discovering new food blogs; recently I tend to notice strawberries in salads a lot. I am intrigued, experiment time.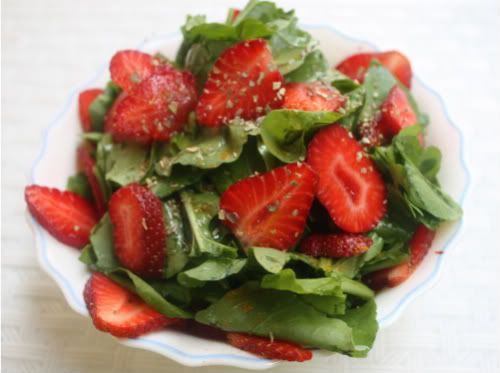 Foodies mostly bring strawberry & spinach together. Well, I have arugula! How do they taste together?
I'm delighted to discover. Also, feeling enlightened. If it weren't for being in food blogging, it'd hardly dawn on me to use strawberry in a salad. Taboo!
I am feeling euphoric as new discoveries bend my borders. Lifetime resolution : extend beyond borders.
I love cheese.
So I include some and my salad brings these ingredients together: Strawberry, arugula, cheese, thyme, olive oil and drops of fresh lemon.
Cheese just completed the missing link.

By the way, I am munching on a new (to me) variation of salad at the time of typing my post: Arugula, fresh apricot, corn, cherry tomatos, olive oil, drops from freshly squeezed lemon.
Talk about sour, sweet, zesty and tangy! It's a sense stimulating salad.
My mind is blown away ...
***
Last Saturday I've been to a latin dance show by myself. One of the dancers - also dance teachers (male in photo) is my former classmate from university. I've seen him dance before, he's great. It felt so nice to see him on stage again, after a long while.

I asked a dancer guy to let my friend know I came. I couldn't speak to him, cause I arrived later than we planned to meet, so he was in backstage by then. It was pretty weird that a piece of velvet curtain and some social rule prevented me from going to see my friend in the back. Oh the good manners and home sweet homes.

Even from a distance though, I felt his soothing energy making me feel welcomed. Appreciated. Very few people can do that, unconditionally.

Sometimes, I like to believe that people like him have a purpose to brighten up others' lives without expecting anything in return. Nothing... Except for not being taken for granted. This is not to be taken lightly, in miu book.

On that note, I want to thank Ann of Happy and Healthy Cooking for appreciating me. I've seen awards going around, and the idea behind them is nice. Anything to appreciate the effort someone shows. It's my first, in that sense. I haven't been around for long in food blogging (since March 1st to be exact) , and some people have been there for me more consistently than other fellow foodies, making this experience a fruitful one for me with their company and support. In fact, I can count more names in my mind. I am thankful for everyone nevertheless, but here my special thank you's go to:

The Duo Dishes
"Frand" of Cooking For Zo
Tangled Noodle
LouAnn of Oyster Food & Culture
Kim of Ordinary Recipes Made Gourmet
Curious Domestic
Reeni of Cinnamon, Spice & Everything Nice
Jenn of Bread + Butter
Leela of She Simmers
Pass The Pocky
Chez What?
Pooja at My Experience With Cooking
Gita
Justin
Poornima
Vrinda
Deeba
The World Tastes Good
.
.
.
(Aww sorry some of your blog names I'll edit later)




I am inspired by this "awarding" idea.

Expect some dedication posts for fellow foodies and good causes in near future, Spirited Miu Flavor way 8-)



Happy Hump Day.