Intense, it smelled warm like home,


Then spring dawned few more days.

Spring time, faint smell released from honeysuckle vines in bloom rejuvenate me. You find them blooming in little garden spaces in apartment entrances on the streets. They assure me, there is room for growth even in a place with less source.. Life in the city, supposedly has more source. If only we didn't have to give up nature.

But it's possible to find smiles. I have a two pot basil garden. Farmer's market to sell me colorful, fresh and hopefully organic produce. Seaside to go for walks nearby. I have much more to be grateful for - but excuse me while I say farewell to spring, my favorite time of year.



Colorful Pasta For Spring Farewell




Very easy to make spaghetti for lunch or dinner. Or in my case, breakfast! Luckily I crave more reasonably, other times. Craving for anything I can't get due to late time, past midnight for example.

What makes this spaghetti special is visuality : colorful ingredients you include. Juicy red pepper, Cretan zucchini, peanuts why not and leftover broccoli. Prep and cooking, I fixed this meal in fifteen minutes I think. Ridiculously delicious for such short time spent. No excuses for having to eat unhealthy! Who's familiar with the lil green wraps tangled with spaghetti?


Taking a closer look on it, hint there...

I won't go for a usual recipe, but instead share my tip for cooking this pasta practically. Cravings don't wait.



- Preserve water :

No need to fill the pot fully and let boil for pasta throw in. Depending on how much pasta you'll use, add water three -four fingers above them. Instead of dumping all that water down the drain in the end, you could add less at the beginning and if you did well with the measuring by senses... it'll be just enough, so there won't be any need for draining at all.



- Avoid sticky pasta:

One tablespoon oil of choice into boiling water



- Save time:

I wanted veggies with my pasta so at around fifth minute, added them into pot to cook together with pasta. Four more minutes to go. Actually, I'm not sure. I never do timing. Helpful eh? Yes, because in intuition I trust. You can always pinch a strand of spaghetti to check for how soft you need it.



- Use herbs, spices:

Is there another way around? I can't think of a life without these.

Easy Peanut Honey Home Cake, Even For A First Timer!
My first cake here...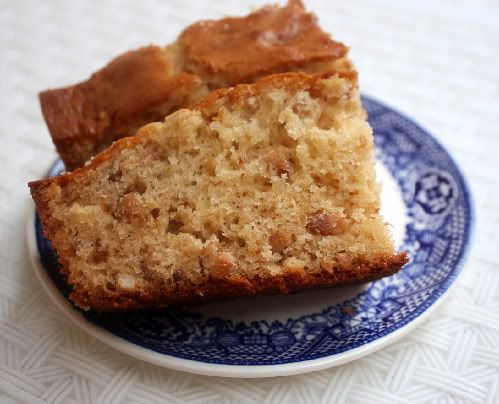 I love and use the baking method for food in general, but sweet/desserts are something else. Profession! Little by little I'm warming up. Baking a cake has been on my mind for a while now. Especially carrot cake with walnuts. Cheesecakes are so alluring. Oh cupcakes. But for these two I need extra equipment...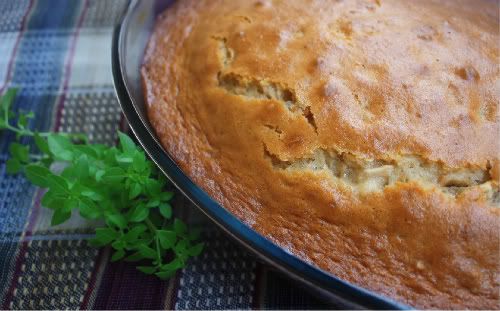 Happy Birthday

Tangled Noodle

!

Well, I baked a cake in an oven proof bowl. The batter raised twice its level. (I need cake mould!) I followed a recipe, which is way unusual. There are so many unbelievably amazing food ideas out there from all you foodies, and on websites we come together. But seriously, I'll pass the recipe if it is:
* Too much work it's overwhelming


* Not clearly described

* Just recipe, but no personal note (There are tons of them, what makes yours stand out?)

* Ingredients are location specific, no substitute ideas given (Evil! Some of them look so good...)

* Not visually inviting



Don't get grr at me now, I know we all have our own way - or we're *
on
* our way to creating them.

Anyway
those come to my naive mind. What's yours? Maybe we should point these out after all... to optimize our foodie experience, he he. Okay. Diversity is good.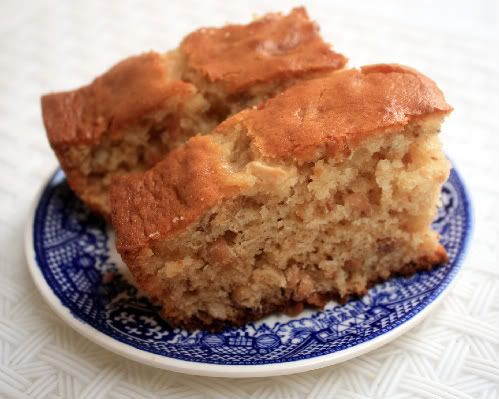 What you need (in using order):


- 3

eggs

,
- 2 cups (or 480 gram)

sugar

(but I used half of this, and added some honey instead),

- 0.6 cup

vegetable oil

,
- 1 cup (or 250 gram)

yogurt

,
- 1 pack

baking powder

,
- 1.3 cup (or 300 gram)

flour

,
- 1 pack

vanilla extract

.
My addition to the recipe:


- 200 gr (0.7 oz I think)

peanuts



- 2 tablespoonful of comb

honey
Instructions? What do you mean instructions! This is the part I fell in love with.

Pre-heat oven moderately (325F or 160/170 C)
In a deep bowl, all ingredients above get in order and meanwhile you constantly stir/ or ideally use a mixer. I did some labor there, no problem.
The cake mixture will be squishy and evenly consistent. It needs to be stirred/mixed so well. Especially if you use nuts, honey like me.
I just know the mommy rule about baking. Bake until the knife comes clean. Must be universal...
The result was so satisfying for a first time baker like me. It passed Mom test, too. The crust browned - and even cracked! (Sorry this was a miracle to me). Inside it was spongy, nicely baked. It smelled like peanut butter and home. It made me think that American people I know would go crazy for this cake. It's PB time!
Recipe above is so compatible, it went from basic spongy cake to peanut honey cake for me. I wrote it on a post-it, hung on the fridge with a magnet for later use. It's that life saving.
---
***



Miu murmur:

At the time of writing this post, I munched on purslane & yogurt meze, green bean mom made, some whole wheat bread. 4 am.

Strong smell of plastic burn came inside my room from the street. But first, I got alarmed that it's in our house. Well, I blew up the kitchen once. I'm still wondering what caused that weird smell, now it's not as strong though... On that person't behalf I apologize your fresh breath of air is just ruined. I'm good at these, but rather call me a realist nut than pessimistic.

In the morning I'll check the litter container for the remains of some undercover's top secret documents.

I'm in a good mood actually, yesterday I went out with former university classmate and her friend. We had beer and chatted, while listening to this band live

http://www.myspace.com/dembedem

Those guys have a future. Sound better live for the note. What else...

Next post, I'll talk about appreciating my fellow foodies (hey Ann!) and also, my blog's makeover. Pss, notice the change already? Those reading via Google reader might have not yet, but take a look! I'm aiming a more spirited, more personalized look. Live up to its name. Cheers.

Credit: Gourmet Sleuth for measurement conversions.