PS: I made it to top 7 out of 1650 posts with this on Foodbuzz, I walked around with a huge smile on my face all day
The Turkish already have pretty healthy breakfast habit. You name it, we have it on table almost. However some days just call for another
delicious
alternative.
Waking up not quite feeling awake, I decided to prepare something nutritious and visually inviting to kick start my day. It'd be fruity, chill and yummy. Smoothie, alright! I never made one before... who cares? Improvise.
Moving onto imagining what goes into a smoothie, strawberry flashes in my mind.

Flavorful

,

energetic

. Banana? High in fiber and potassium, be welcome. Turkish yogurt is not even questioned by this dedicated fan. Some milk too, sure. Tablespoonful of honey, suit yourself. I have a

good feeling

about this day already. A couple spinning in the food processor, my wonder breakfast is ready. I mean the nutrition part is taken care of. How about the visuality? Taking some extra time with it, I'm having a

special

breakfast. Slicing some strawberry, pouring smoothie into cup, top with few leaves of

fresh

basil for the pungent aroma.
Here's yours:
Weekend is here. What's for breakfast, foodies?
;-)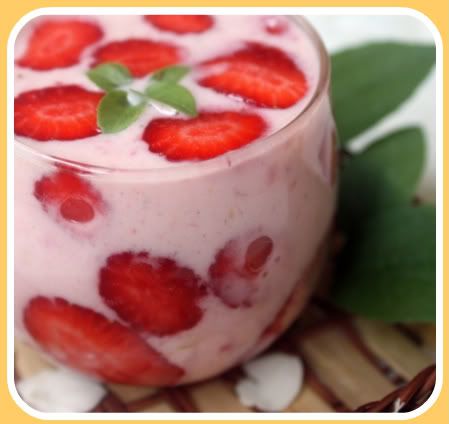 ---
Note for Foodbuzz friends:

I posted a poll about "X foodie sent you a post to view" messages coming to our inbox. I pulled the link for you, find it here
.
---