I had a significant one this year - one that I will remember well later on. People I love all remembered me once again, feeling lucky for that... I've got messages, calls and surprises!
On my birthday morning, May 1st, mom and I went out for a breakfast together. Then we were caught in rain so we went back home instead of hanging out. For once I didn't plan anything as in how to celebrate this birthday and to be honest it felt alright. Then again as it was getting late, I thought I should go out do something nice. I dressed up and ventured out, took a bus went to the opposite coast. Hung out for two hours, ended up getting myself cheesecake instead of buying dinner cause the Chinese buffet has run out of business apparently. Yummy yummy. I did some people watching. It felt funny, as if I had a secret no passerby people knew. It's my birthday! I wanted to stop some people and let them know. I had all these thoughts about "how we perceive birthdays" on my way back to the bus. I am maturing nicely, I feel it. Everything gradually resolve to be just good if I put thinking into it. I've been having a lot of fruitful time to spare for thinking.
Next day my sister and her boyfriend was visiting. I was so excited for that... and didn't know how to pass time so I spent hours cleaning & cooking beforehand. I made my first couscous! Thought I invented green bean chips also. Apparently not!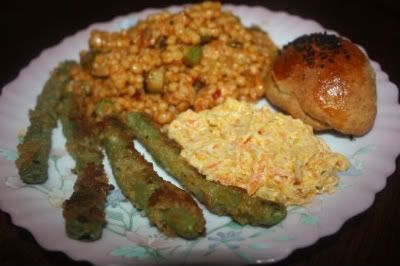 **Couscous with chicken and zucchini, carrot & yogurt meze, green bean chips!, Turkish pogaca oh yum
Food I made was gone in a matter of fifteen minutes haha. We quickly got prepared to go out after dinner.
So it was quite a night after dinner together, drinks at bar, Turkish tea & hookah at cafe and midnight snacking we did.
Next day I had such a sweet surprise from my boyfriend, red roses...
I'm still on cloud nine from all these!
Thank you all my foodie friends for celebrating me!