I was craving for eggplant taste last few days, so I finally satisfied my tummy. I think this veggie enjoys garlic, coriander and olive oil's company the most. I figured I'd use these as sauce to my pasta - soon I had to start preparing because the smoky taste I was aiming for just made me impatient to wait till I could serve my meal. Picture above features my composition of garlic, coriander and eggplants - when I've already completed the first step with them; broiling on my oven flame for 5 - 10 minutes that is. I took them aside when they were soft enough. A smoky smell came out that I didn't mind inhaling a bit as I was moving onto the next step with my ingredients.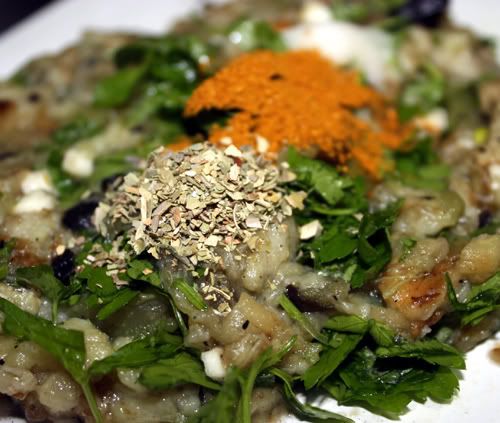 I washed & chopped some coriander leaves and got my spices ready before I'd begin peeling whole broiled eggplants' skins - a wise decision. :) As the flesh got exposed, I could begin to slightly mash up eggplant, coriander bits, chopped up garlic and also spices I'd use : Thyme, nutmeg, salt. Adding a table spoonful of olive oil upon finishing the sauce making. Simultaneously, I boiled some water and threw in some bow shaped pasta into the pan. Pasta took about 8 minutes to cook. By the way I didn't need to drain any water afterwards, cause I just add enough water to boil pasta and calculating the bit that'll evaporate!
Sprinkle some cayenne pepper just for decoration purpose and that's all! I didn't have to show a lot of effort for this healthy and yummy meal. What else would go well with it... Hmm, maybe some Turkish yogurt.